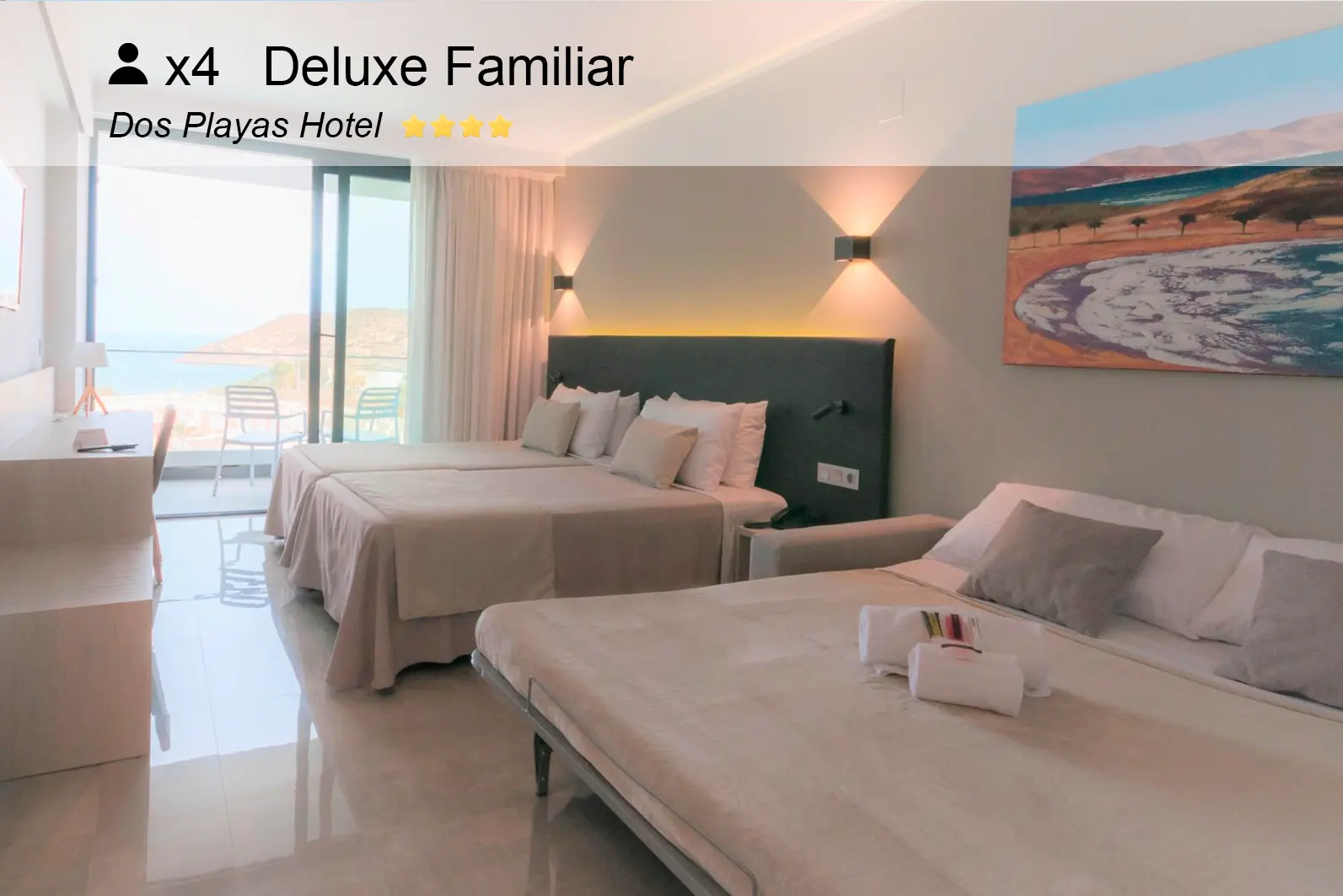 Family Deluxe with maximum occupancy of 4 people.
Terrace
Tv Led 32″
Safe (€)
Minibar
Desk
Individual air conditioning
Full bathroom
Shower plate.
The configuration of the beds is the following:

2 adults + 2 children up to 11 years old, two single beds and a shared sofa bed (1.30m x 1.90m)
3 adults + 1 child up to 11 years old in two single beds, sofa bed (1.30m x 1.90m) and extra bed of 0.80m
4 adults in two single beds, a 130m x 190m sofa bed and an extra 0.80m bed.
Want a spacious, comfortable room for you and your family? The Deluxe Family rooms at the Hotel Dos Playas guarantees restorative rest and a memorable stay. Curious to know what they're like?
Deluxe Family, shared satisfaction
It isn't easy to find family rooms that are 100% suitable, where you can all be together. At our hotel, we have these 24 m² rooms that can accommodate 4 people. They are in the top part of the building, so they have amazing views of the Mediterranean Sea.

Among their features, the following stand out:
Large 40" LED television.
Stylish setting.
Fully-equipped, spotless bathroom with shower enclosure.
Minibar, equipped with drinks and delicious snacks.
Individual air conditioning. The room temperature can be exactly what you decide. Set it to whatever you want!
Safe (€), the perfect accessory for keeping your most valuable personal belongings safe.
Free Wi-Fi available on all your devices.
In general, these rooms for four people have single beds and a sofa bed measuring 130 cm x 190 cm. It is the perfect formula for two adults and two children up to eleven years of age, who usually sleep together on the sofa bed.

However, they can also accommodate three adults and one child, with an additional bed (80 cm wide).

Whatever the layout, the lovely atmosphere, the services provided and the attention to detail make this an optimal setting for families. These rooms ensure added benefits, such as panoramic sea views from the balcony.

You'll feel at ease and right at home in our Deluxe Family rooms. At the Hotel Dos Playas, we always focus on giving you the most satisfying experience. And in this case, we do that for the whole family. Find your room on the dates you want with our booking engine!