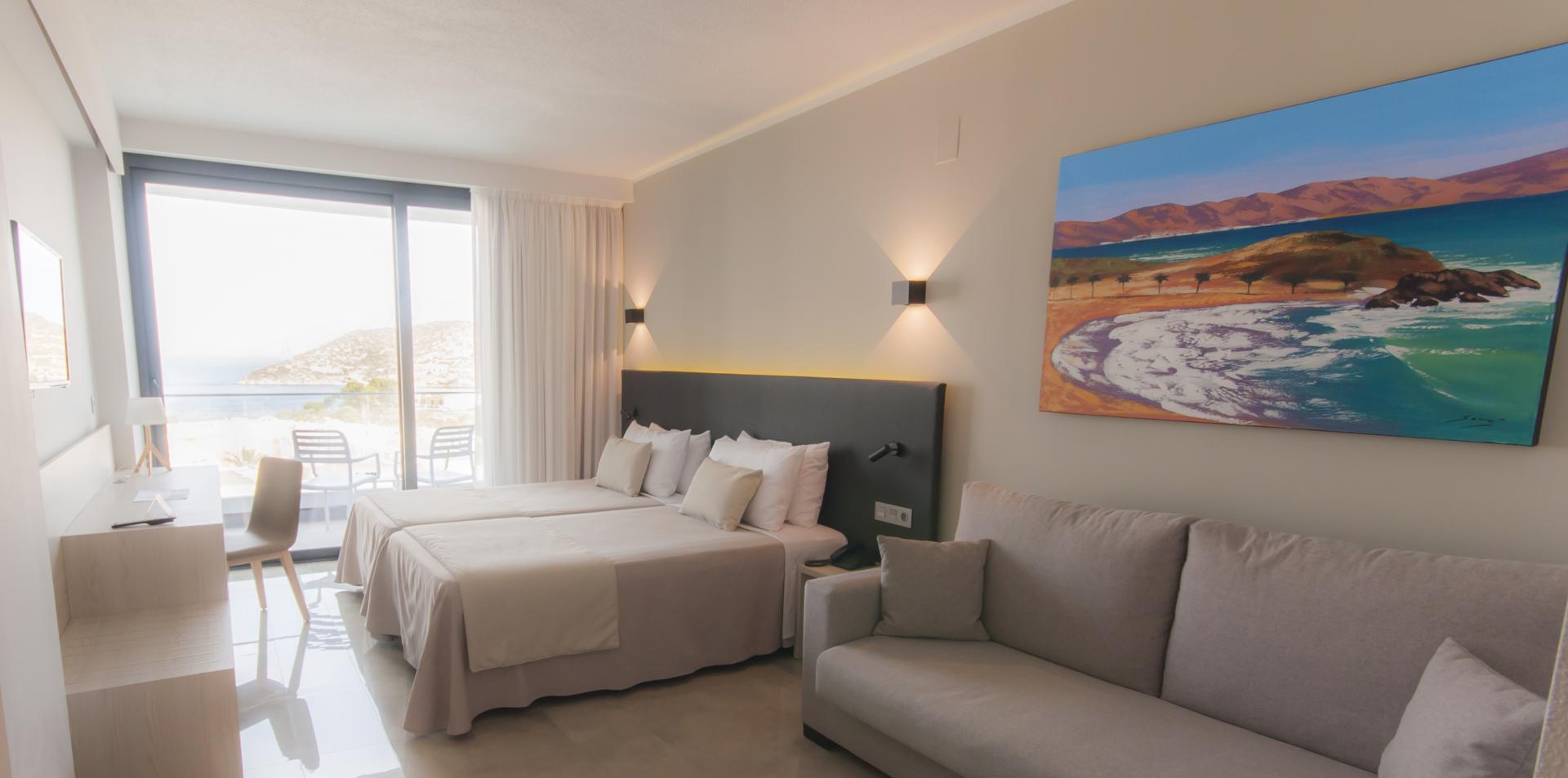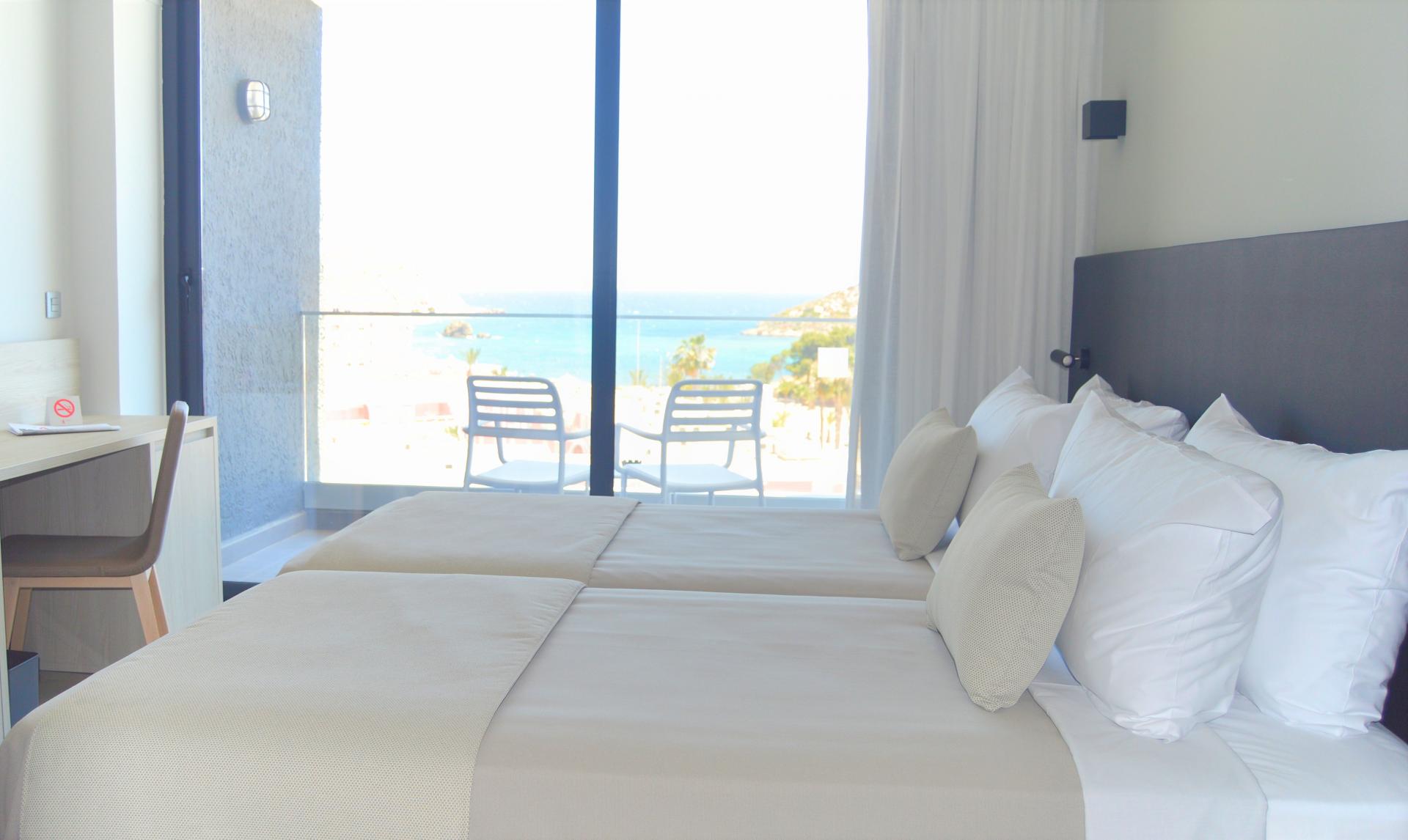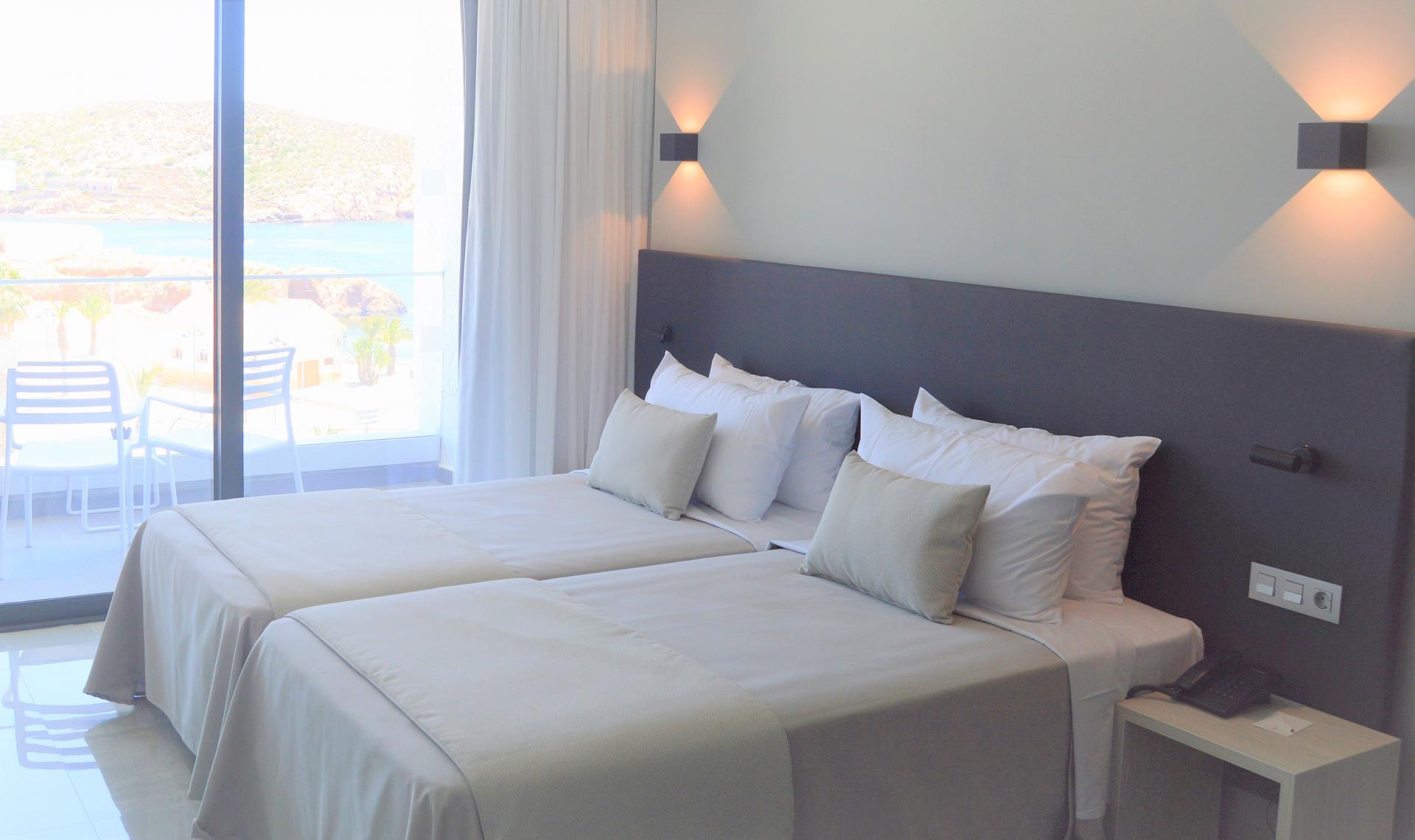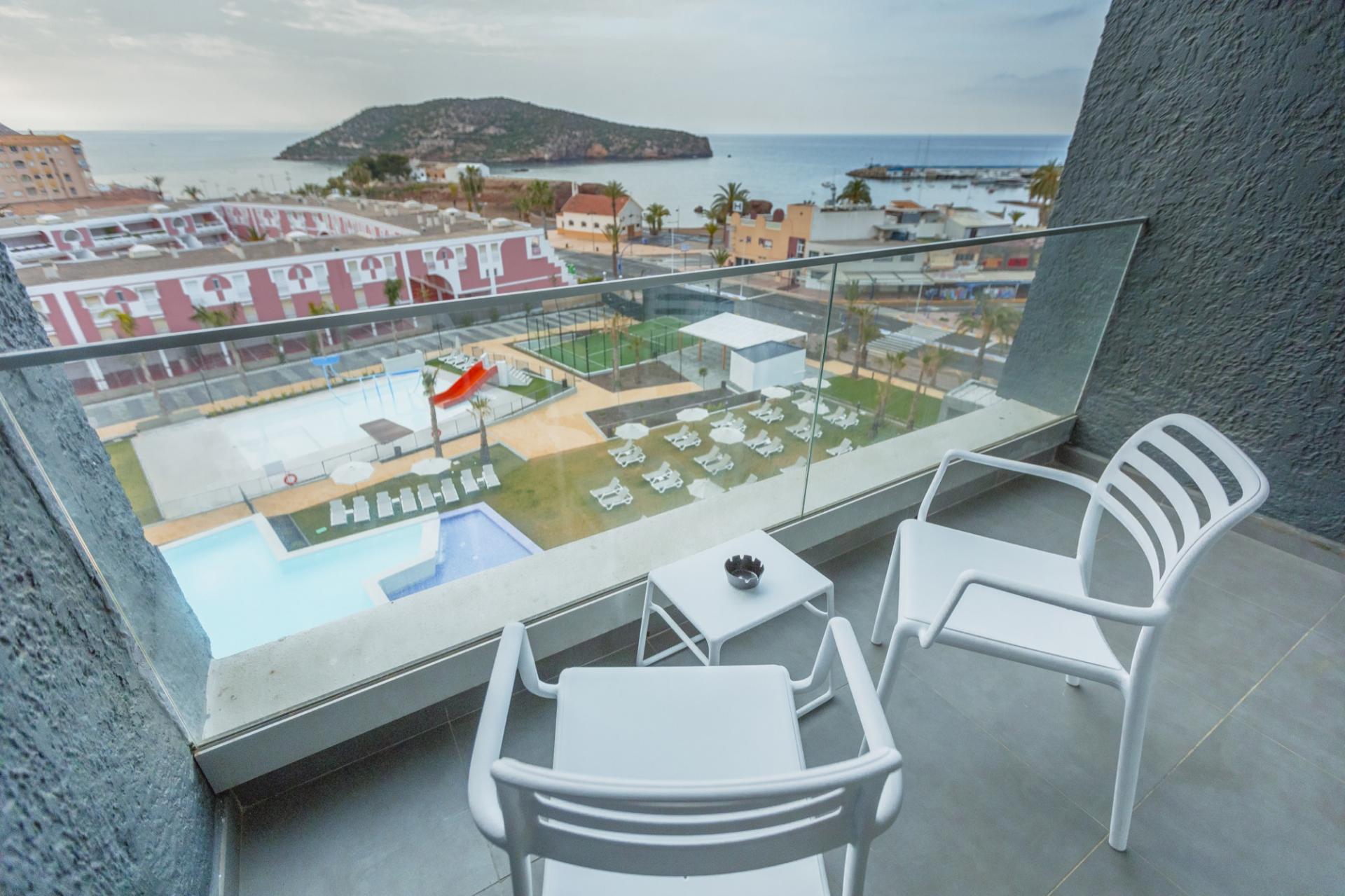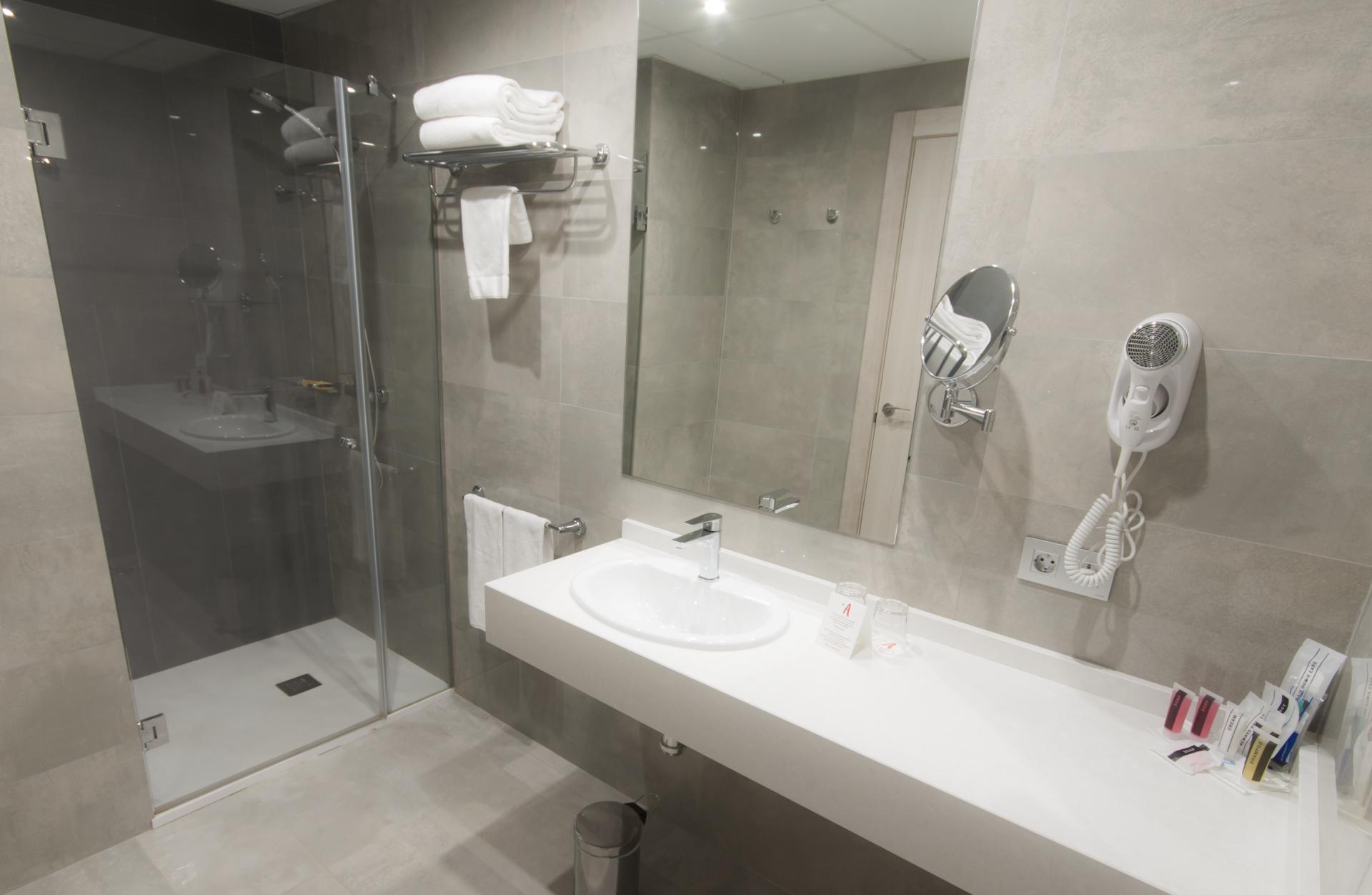 Located on the 4th and 5th floor
Fabulous sea views
22 m2 rooms
40" LED TV
Individual air conditioning
Safe (€)
Minibar
2 beds of 105
Desk
Shower plate
Are you someone who loves leaning over the balcony to see an amazing sea view lying before you? If you stay in a Deluxe Level Sea View room, you can do this as often as you want. Enjoy the beauty of the Mediterranean like never before!
Deluxe Level Sea View, luxury within reach
In Mazarrón, the panoramic views of the Mediterranean are relaxing and beautiful. Can you imagine being able to enjoy them any time you want from the comfort of your room?

These rooms for two are on the fourth and fifth floors of the Hotel Dos Playas, giving them a magnificent panoramic view. Also, speaking of viewing, they have a 40" television, a sofa and a peaceful, relaxing atmosphere that will envelop you.

The fully-equipped bathroom with shower enclosure will become another gratifying, strategic place during your holiday. You will be amazed by its impeccable condition, and the neatness and wellbeing that its ergonomic design provides.
As much as you need to feel comfortable
These 24 m² rooms have so much more to offer, such as individualised air conditioning which you can set to whichever temperature you want at any time of the day or night. You can enjoy the perfect temperature in our rooms!

What else will you find in these deluxerooms? Take note:
Minibar. This is a fantastic detail which will certainly come in very useful at some point in your stay. When you want to cool down or snack on something late at night, it will be there for you.
Safe (€). You won't be leaving your valuable possessions unprotected when you leave your room. This feature will give you security and peace of mind.
Two beds measuring 105 cm wide. You'll sleep better on these than you do at home!
Wi-Fi. You'll remain connected throughout your stay in our accommodation.
At the Hotel Dos Playas, we offer these unique double rooms with views of the Mediterranean Sea. Go to our booking engine and make sure you don't miss out on the Deluxe Level Sea View on your next stay.