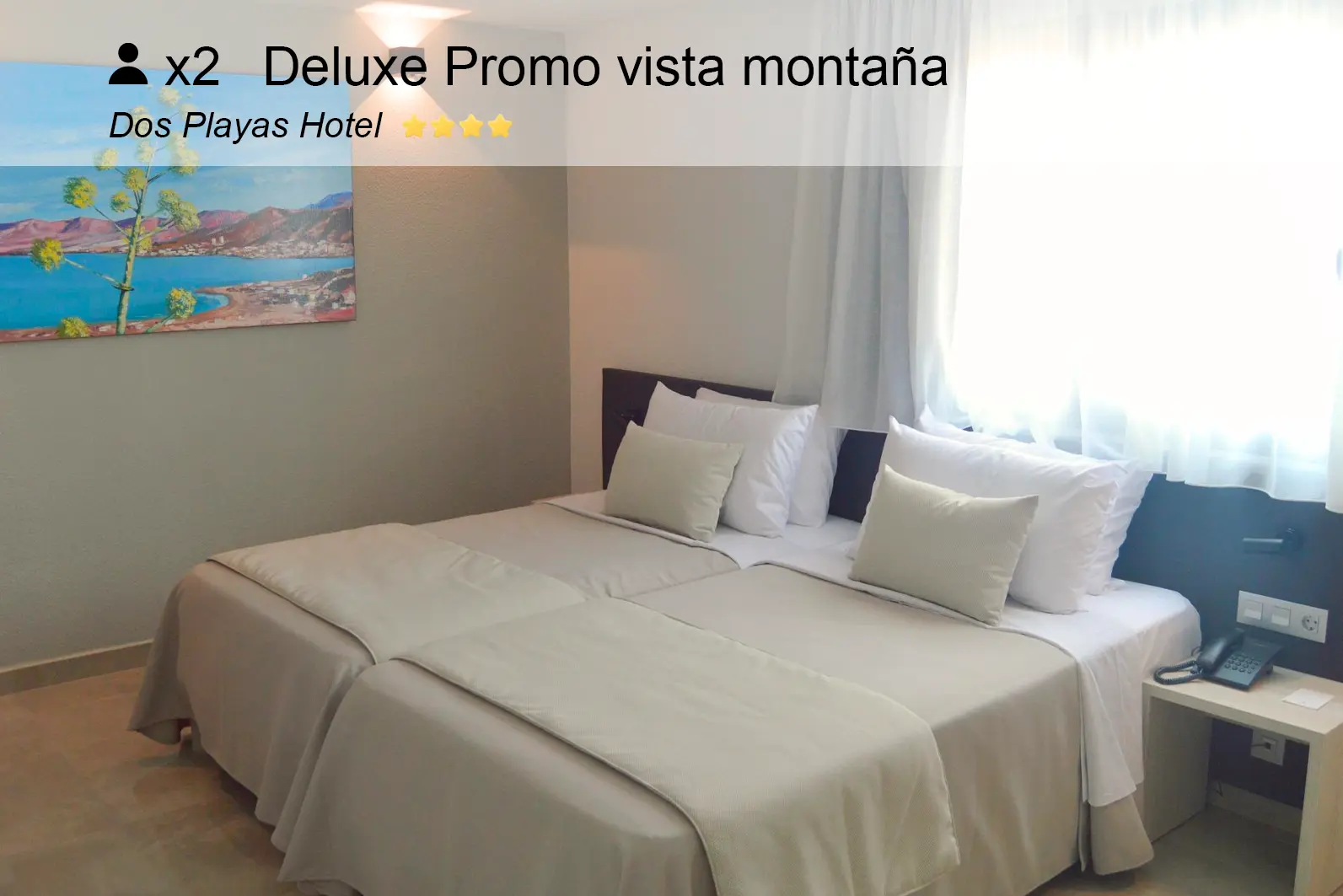 Ideal room for 2 people
Oriented towards the mountain
Tv Led 32″
Safe (€)
Minibar
Desk
Individual air conditioning
Full bathroom
Shower plate
Some are adapted for people with reduced mobility.
Our Deluxe Promo rooms offer comfort, wellbeing and views of the mountains. These are welcoming, peaceful rooms, ideal for couples who want to switch off and make the most of their opportunity to rest. Below is a description of their main features.
Deluxe Promo, the peace that comes with feeling good
Finding quality holiday accommodation is a luxury that will enhance the enjoyment of your holiday. In these rooms that can accommodate two people, the mountain views provide a delightful extra sense of calm.

These are rooms with a serene decor, based on neutral tones – mainly whites, creams and stone colours. The light is incredible and the features are typical of the best hotels in the Mediterranean.

So, for example, they have a 32" LCD television on which you can watch your favourite programmes with perfect clarity. They also have very comfortable beds, thanks to the fabulous linens, mattresses and pillows provided. Deep sleep is guaranteed.
A festival of positive sensations
These holiday rooms are much more than a double bedroom. They have a practical desk, where you can organise your excursions and work on holiday, if required.

Other important features in these rooms are:
Safe (€). Leave your room in complete security, leaving all your valuables safely behind.
Full bathroom. Furnished with a shower and everything you need, it is an ergonomic, functional space.
Individual air conditioning. You decide the temperature of your home and, in our rooms, it is exactly the same. You'll always feel comfortable during your stay!
Minibar. Thirsty around mid-morning? Sudden appetite at night? The mini fridge always stores what you like.
Relax and enjoy the Deluxe Promo rooms in our Hotel Dos Playas. Lean out and enjoy the mountain views: go to our booking engine.