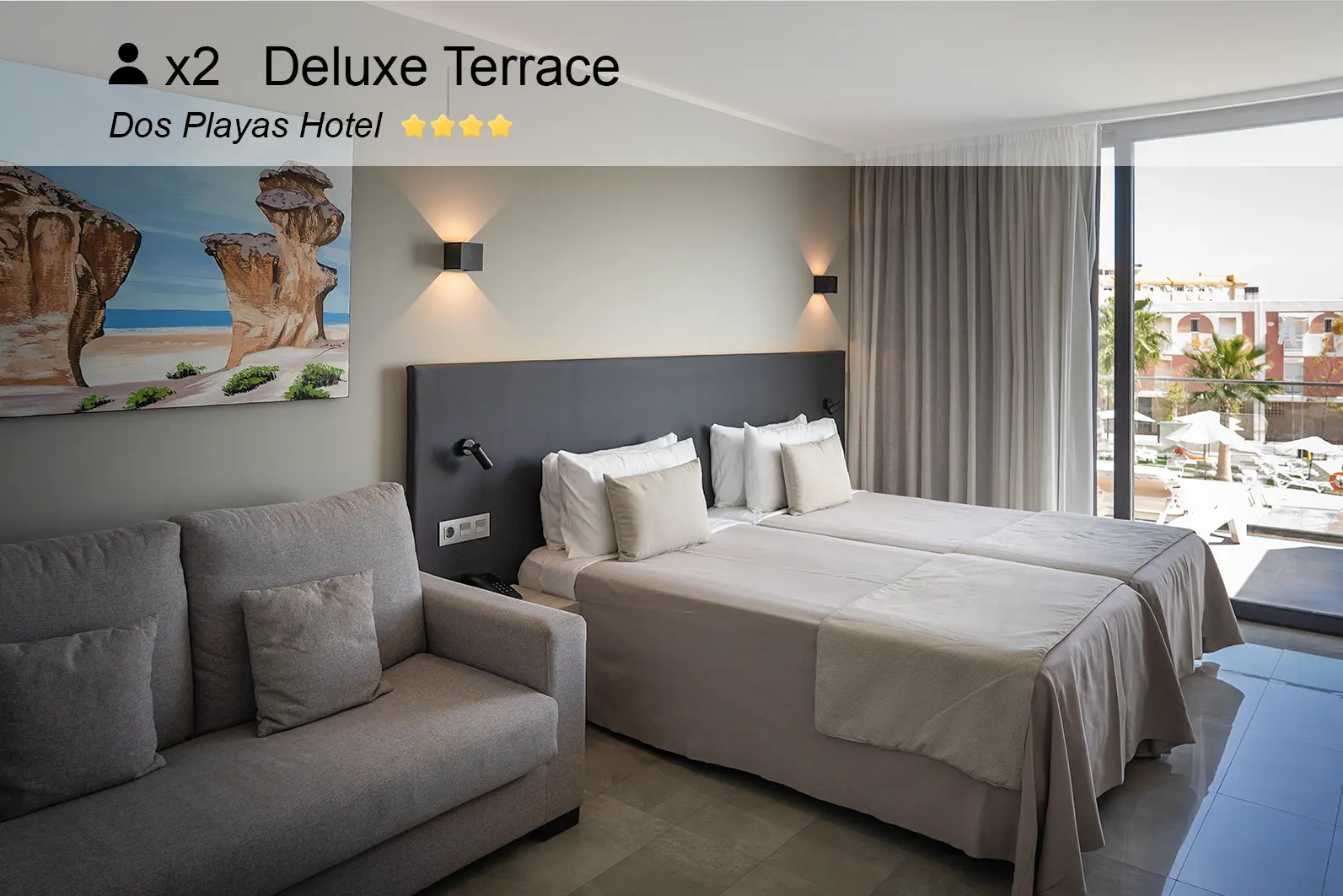 Ideal room for 2 people
Elegant 21m2 room
8m2 terrace
Views of the pool and hotel gardens
2 hammocks and 1 table
Tv Led 32″
Safe (€)
Minibar
Desk
Individual air conditioning
Full bathroom
Shower plate
One of the pleasures we associate with a holiday is leaning over the terrace and enjoying some incredible views. Our Deluxe Terrace rooms provide exactly that. Shall we see what they are like?
Deluxe Terrace, visible wellbeing
At the Hotel Dos Playas in Mazarrón we provide these fashionable, comfortable rooms measuring 21 m². These are stylish rooms that have been decorated to give a harmonious atmosphere in colours that are gentle, relaxing and bright.

The 8 m² balcony has views of the pool and gardens, which are always stimulating to look out on. They also include sun loungers, where you can relax and let the world go by. Two outdoor chairs and a table are also provided. You'll love to spend time there, in the fresh air, admiring the setting!

Don't want to miss your favourite TV programs? Watch them live on the 32" LED television inside your room.
What other facilities will you find in your room?
Below is a list of some of the extras offered in the Deluxe Terrace rooms during your stay:
Desk. This is a useful feature if you need to work or use your electronic devices. The natural light will illuminate it for several hours a day.
Minibar. If you get hungry or thirsty, simply open it up to satisfy your needs.
Safe (€). Protect your valuables with the equipment available in these enticing rooms.
Individual air conditioning. You can always get your room to the right temperature for you. Set it to the temperature you want at any time of the day or night.
Having an incredible, fully-equipped balcony in your hotel in Mazarrón is a perk you can enjoy. You'll love our Deluxe Terrace rooms – inside and outside. Don't hesitate any longer. Go to our booking enginenow. Make sure you can get one of these rooms for the dates you want.