Enjoy the holidays with your pet
We know that being able to travel with your best friend is important to you.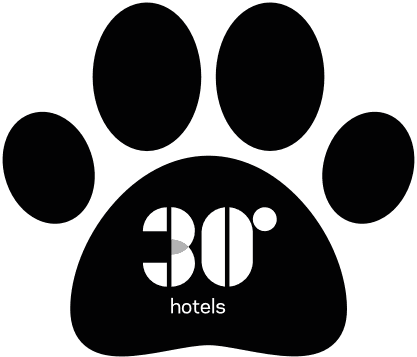 Travel with your best friend.
Our purpose is that guests, workers and the environment become part of a family, and for this reason we strive to receive them with the best personalized services after their long journey.
We want everyone's experience to be excellent, including the little ones in the house and even pets.
We are pet friendly!
Warn at the time of making the reservation that you are traveling with a pet (only one per room) and that it is not classified as PPP. And wait for confirmation of availability from the hotel.
To facilitate in the reception, the animal's health card with up-to-date vaccinations.
To make sure that, inside the hotel, your pet is always on a short leash.
To make sure not to use the shower or the hotel towels for the pet.
To make sure that the pet does not enter areas of the hotel that are not allowed. The permitted areas will be duly indicated.
To comply the specific regulations of the town, spray the urine with water and pick up the pet's droppings.
To indicate the pet's weight upon arrival at reception to pay the corresponding fee (up to 10kg, €15/pet/night; from 10-25kg, €20/pet/night and if it weighs more than 25kg, €25/pet/night VAT included).
To be responsible about the damages and problems caused by your pet to third parties and/or hotel furniture, comply with current regulations and exempt the hotel from any liability, so it is essential to provide a credit card or deposit upon arrival and a telephone contact.
To make sure that your pet is properly dewormed (internally and externally).
Leave a sign indicating that you leave your pet alone in the room
(we will provide it at reception).
To sign the hotel's pet regulations.
Warn to reception when the pet is not in the room to be able to do the daily cleaning. The hotel reserves the right to cancel the daily cleaning or maintenance of the room.
To prevent your pet to climb on the armchairs and the bed and ensure that it relieves itself outside the hotel and the room.
The Pet Owner has to take care the correct hygiene and good behavior of your furry, and be tolerant with the rest of the clients who may be allergic or feel bothersome (barking,...) so that the pet does not alter the coexistence and well-being of the clients staying, reserving the hotel management the possibility of canceling the contracted hosting service.
We put at your disposal... Information on parks, puppies, dog beaches, veterinarians and other services. Drinkers, feeders and beds (with a deposit, €). An area to eat or drink in the company of your pet, inside the hotel. A Welcome Pack for your pet.